Upper Vista Muskoka 安省第一度假胜地Muskoka, 两层经典独立屋 65* 150大占地,​
60多万起到110多万!10%定金 价格和户型图​
【Upper Vista Muskoka|两层经典独立屋开售】

度假屋季节仅10万左右

首款可购置一套位于安省

最美观赏枫叶胜地美名

9 Gainsborough Rd Bracebridge, ON P1L 1W

安省第一度假胜地Muskoka, 独立屋楼花!
at 9 Gainsborough Rd, Bracebridge
65* 150大占地, 60多万起到110多万!

【Upper Vista Muskoka|两层经典独立屋开售】
度假屋季节仅10万左右首款可购置一套
位于安省最美观赏枫叶胜地美名


安省秋季最好观赏枫林尽染的度假胜地Muskoka
独立屋项目引荐给您Upper Vista Muskoka
仅$60多万起到110多万

【共10%订金】分三次付清
2023年的夏季完工
2个卧室室内空间在1277尺起
Located at Gainsborough Rd
& Santas Village Rd,
【共10%订金】分三次付清
23年的春季即可入住再也不会错过四季的变幻流转之美
4个卧室—4个卧室室内空间在1277—2637尺左右
Single Family at 9 Gainsborough Rd, Bracebridge

200米直上高速 Hwy400
200米Muskoka River
10分钟内达当地连锁百货
10分钟27洞高尔夫球场
90分钟抵达多伦多地区


舒适大平层独立屋
经典二层设计独立屋
65*150 超大的私家占地

可选择后院装置 泳池

可要求精装设计地下室

部分背靠绝美静谧峡谷
Deposit Notes
$10,000 with Offer
Balance to 5% in 30 Days
2.5% in 120 Days
2.5% in 180 Days

UPPER ISTA MUSKOKA--价格和户型图
UPPER ISTA MUSKOKA
The perfect getaway address! Upper Vista Muskoka

is an exciting new community comprised of Townhomes

and Detached Homes coming soon to the heart

of Northern Ontario. Residents at Upper Vista Muskoka

will have ample opportunity to enjoy a fantastic assortment

of activities from Dining, Shopping, Golfing,

Provincial Parks, Watersports, Winter Sports,

Hiking, Cycling and so much more that Muskoka has to offer!

UPPER VISTA MUSKOKA
完美的度假勝地!Upper Vista Muskoka是一個令人興奮的新社區,

包括即將到安大略省北部心臟地帶的聯排別墅和獨立式住宅。

Upper Vista Muskoka的居民將有足夠的機會享受各種各樣的活動,

包括餐飲,購物,打高爾夫球,省立公園,水上運動,

冬季運動,遠足,騎自行車等等,

Muskoka還提供許多其他活動!
Bungalows Starting From The Low $600s

2-Storey Homes Starting From $1 Million
41' Detached Bungalows Starting From the Low $600's
41' Detached 2 Storey Homes Starting From the $1 Millions
* Voted One of the Best Places to Live in Canada *
* 2 Hours From Downtown Toronto *
* Minutes From Historic Downtown Bracebridge *
* Close to the Muskoka River and Plenty of Green Space *
Upper Vista Muskoka is an exclusive collection
of 41 detached homes and 60 townhomes nestled away
in the beautiful town of Bracebridge,
conveniently situated just 2 hours away
from the hustle and bustle of downtown Toronto
.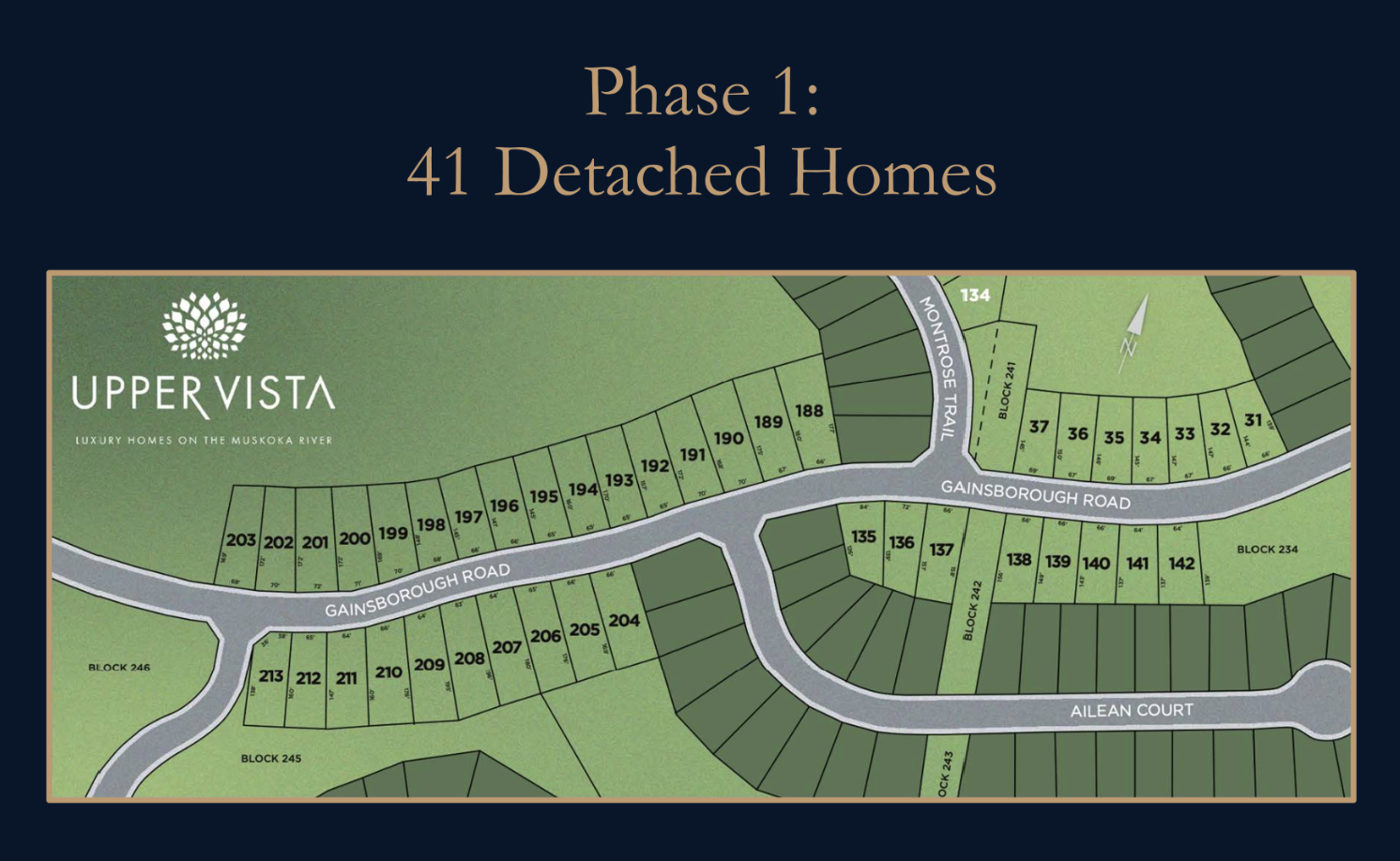 This historic town offers the peaceful beauty
of the Muskoka River, nearby parks,
golf courses, and conservation areas.
The area offers a wide variety of recreational activities
and some urban amenities within its downtown core.
Deposit Structure
$10,000 with Offer
Balance to 5% in 30 Days
2.5% in 120 Days
2.5% in 180 Days
Occupancy:
Spring 2023
Phase 1: 41 Detached Homes
60' wide lots with large spaces for BBQ, pool,
gardening as well as entertaining
Bungalows with loft option or two storey homes
Option for pool
Some units backing onto ravine
Roundabout driveways
All homes come with the option
for a finished basement with a separate entrance,
especially for multi-generational families
or for additional rental income
Starting in the low $600,000s
Phase 2: 60 Townhomes
Many future phases at Upper Vista to be released over
the next several years.
Highlights
Upper Vista is approximately 2 hours from Toronto
Internationally recognized beautiful countryside
Home to some of the most luxurious as well as expensive
custom properties in Canada
The large seasonal provincial vacation market
Several golf courses nearby
Many celebrity homes (Tom Hanks, Steven Spielberg,
Cindy Crawford, Kurt Russel and
even Kate Hudson's Goldie Hawn)
Bracebridge Sportsplex: Built-in 2006,
this multi- million-dollar sports facility offers pools,
fitness centre, outdoor track, as well as volleyball
Arts at the Albion is a co-operative gallery
in the heart of Gravenhurst, Muskoka,
showcasing the work of 20 diverse
and unique local artists and craftspeople
in a heritage building.
Fish in Lake Muskoka with the Muskoka Guided Fishing Tours.
Enjoy the beautiful trails and nature
in Bracebridge Bay Park.
Shopping, Schools, as well as Hospitals nearby for healthy,
happy living for all members of the family.
Santa's Village amusement park – especially fun
for children and families
Bungalows starting from the low $600,000's
2 storey homes starting from $1 million
Only 10% deposit before occupancy
Various options for upgrades as well as customizations
Lot premiums may apply
Why Invest in Bracebridge, Muskoka
1. Aging population drives increased demand
for cottage country properties
2. Limited supply of existing homes
at an affordable price
3. The Loonie discount: Favourable exchange rates
while attracting foreign investors accelerating
capital appreciation
購買理由
一次又一次被《國家地理》,《 Frommer's》
和《 Reader's Digest》等出版物評為加拿大最佳遊覽地之一!
居民將被許多大型商店包圍,例如:Canadian Tire,LCBO,
沃爾瑪超級中心,Staples,Home Depot-
所有這些商店都在不到10分鐘的時間內即可到達!
Bracebridge距多倫多市中心和北灣僅兩個小時,
位於Muskoka河上,俯瞰著著名的Bracebridge瀑布,
對於那裡的高爾夫球手來說,馬斯科卡(Muskoka)擁有許多高爾夫球場,
從9洞球場到具有挑戰性的18洞球場。
南Muskoka冰壺和高爾夫俱樂部,Muskoka高地高爾夫球場,
Bracebridge高爾夫俱樂部和練習場等等,
距離Upper Vista Muskoka僅有片刻路程!
距Bracebridge歷史悠久的市中心僅一小段車程,
那裡擁有眾多令人難以置信的餐廳,商店,精品店,咖啡館等等
Upper Vista Muskoka的居民可以輕鬆地度過一天的時間,
探索Muskoka提供的眾多省級公園之一,
例如:阿爾岡昆公園,哈迪湖省級公園,
衣衫Falls的瀑布省級公園等等。
布雷斯布里奇(Bracebridge)全年提供各種各樣的戶外活動,
例如:棒球,沙灘排球,觀鳥,划船,劃獨木舟,皮划艇,
露營,越野滑雪,碟形高爾夫,釣魚和冰釣,高爾夫,
遠足,山地自行車,滑冰,雪地摩託等等!